This was a great weekend for my TEAM.  I loaded up my car on Friday morning and went to work to teach my noon class and then headed over to pick up one of my TNT participants at her house and then we headed down to Galveston.  The weather was beautiful and the temperatures were warm.  It was going to be a great race weekend.
When we picked up the keys for the beach house at the leasing office, one of the ladies asked me, "Are you a triathlete?"  HA!  Did I look like one???  I was in my black prAna yoga pants and workout top from teaching class.  Was it the Kuota Kalibur on top of my car that gave it away?  Lori said it was the loaded guns that I was sporting on my arms.  Anyway, it made me feel good that I did not look like the ultimate slug that I had been posing as for the past few months and that I had not let the body go all to goo.  They were nice enough at the leasing office to let us have a late check out of 3 p.m. rather than 10 a.m. due to the race and that there was not a party waiting to check in after us.  
When we got to the house and opened it up, it was incredible!  It looked like an interior decorator had gone through the entire place and they had done it up nice.  I felt bad that 11 sweaty/rowdy triathletes were going to be there all weekend long.  We unloaded the car and slowly, people started showing up.  One of the gals forgot her wetsuit and had to go home to get it and we all suspected that it was really because she did not like fish and I was making fish tacos for diner.  The fish tacos were YUMMY and for dessert I had brought a Texas Sheet Cake.  If you do not live in Texas and have never had a slice of Texas Sheet Cake, then you are missing out on what I like to call chocolate heaven.  The cake batter is made with Dutch process cocoa and is baked in a flat sheet pan like brownies.  While it is baking, you make up the frosting with more Dutch process cocoa, powdered sugar, butter, and vanilla and as soon as you pull the cake from the oven you pour the frosting over it.  You end up with three luscious layers.  A layer of cake, a fudgy layer in the middle where the cake and frosting blended together, and a layer of glaze like frosting on top.  One of the guys staying the weekend had cake for breakfast each morning.
We got the bikes all situated and tagged with the race numbers and then we headed to bed for an early wake-up call.  In the morning the coffee was waking people up and the house was jumping by 5:00 a.m.  We loaded up and headed to Moody Gardens to get the TEAM body marked and checked into transition and for me to meet up with other TEAM members who drove down that morning to cheer.  We took lots of pictures and tried to keep the gang who was racing from getting too nervous.  The funniest moment for Coach was when Jake and Everett realized that they needed to run back into transition to get their wetsuit, cap and goggles before they closed it down.  As we were walking towards the swim start, someone asked Jake if they needed their cap and Jake said yes.  The guy took off sprinting back to the transition area and Jake rolled his eyes and said, "Beginners."  I wanted to laugh so hard since they had almost fallen into that trap themselves.  Great way to keep it light and humorous.
Me and Jay who I coached two years ago to his first Olympic distance race.
Donna, Judy, Nick, and Lori ready to cheer on their Teammates!
Karla and Erika excited about all the HOT men in spandex
.
Most of the TEAM pre-race
.
Lori, Karla, Erika, Judy, Ulysis, Nick, Raychel, Donna, and I all headed back to the swim exit once we saw the first two waves take off so that we could have our cameras ready to catch Ryan, Erich, David, Jake, Jim, Everett, Evelyn, Evelia, Megan, and Meredith as they came out of the water.  Judy had found a box of cow bells, so we were armed and dangerous!
You would never guess that Jim is 74!
Meredith said the only good thing about coming in near the end on the swim was that it was easy to find her bike and she ended up passing lots of people on the bike leg.
Ryan was the first one out of the water and came skidding in for the wetsuit strippers to peel the wetsuit off of him.  Keith Jordan spoils us with his fabulous race.  I had to remind my TEAM that wetsuit strippers were not the norm at most triathlons.  Jim came through next and then one by one, my TEAM made their way into T1 and out on the bike course.  I moved over to the Run Out and waited for Ryan and Erich to make their way onto the run.
Ryan heading out on the run.
 Jake and Everett were looking strong.  Ryan is smoking fast so after 15 minutes I had to make my way to the finish line.  I was watching the fast boys start to roll in over the finish line and here comes Ryan!!!  He finished just behind the first place guy in his AG.  I hung out at the finisher's shute  so I could see people run by on the run course on one side and finish on the other side.
As everyone finished the race I stepped in for some de-briefing and asking people's impressions of how the race went.  Jake made a statement that was really important to me as a coach to know how to proceed with their training over the next few weeks.  When I asked Jake how the race went he said, "Coach, I now know why you did not let us do a race until after Re-commitment.  If I had done a race before Re-commitment I would not have Re-committed."  That was my cue that the workouts that we have left together need to be more race specific.
Jake at the finish
. He told me the next day he would do it again it was so much fun.
 We have moved out of base training and now focused on building power and strength as well as confidence.  Alex was angry for skipping socks on the run and getting blisters.  David said he had a freak out in the water on the swim because he could not see anything.  Everett said the swim was hard for him as well.  Evelyn claimed that the heat on the run was her stumbling block.  Erich was happy that her took 12 minutes off of his time from last year.  Jim was happy with his run but he wants to work on maintaining his pace with more miles.  Meredith was happy that she was able to pass so many people on the bike after a rough swim.  I did not see Evelia finish up and she met up with her family so I did not see her until later in the day.
We hung around for the awards and watched Ryan receive his 2nd place award and for Jim to receive his 1st place award.  YAHOO!!!  I was very proud of them and we got a lot of love from the crowd when Jim went up to get his award.  It was time to gather up the gear and head back to the beach house because we had a birthday to celebrate!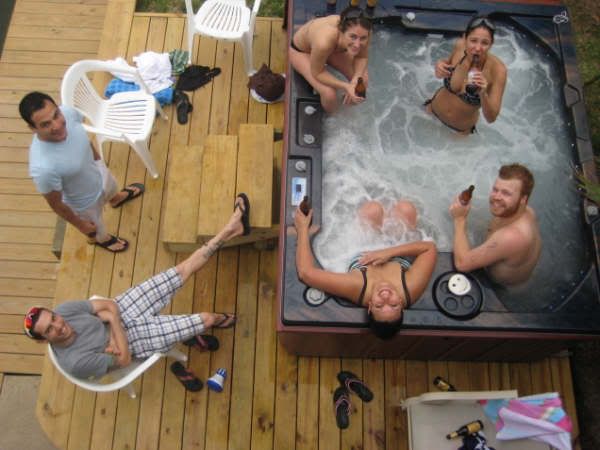 Back at the beach house the crew hit the hot tub and I went to work on finishing up the birthday cake before David and Meredith arrived.  Lori got lunch going and Judy gave me a hand with the strawberries and I whipped up the sweet cream.  David was so surprised when he walked in and saw the cake.  Meredith had done a good job of keeping the surprise from him.  The cake was all from scratch and it was sooooo good!  The hot tub gang came in to watch a movie and I started the ham soaking in apple cider.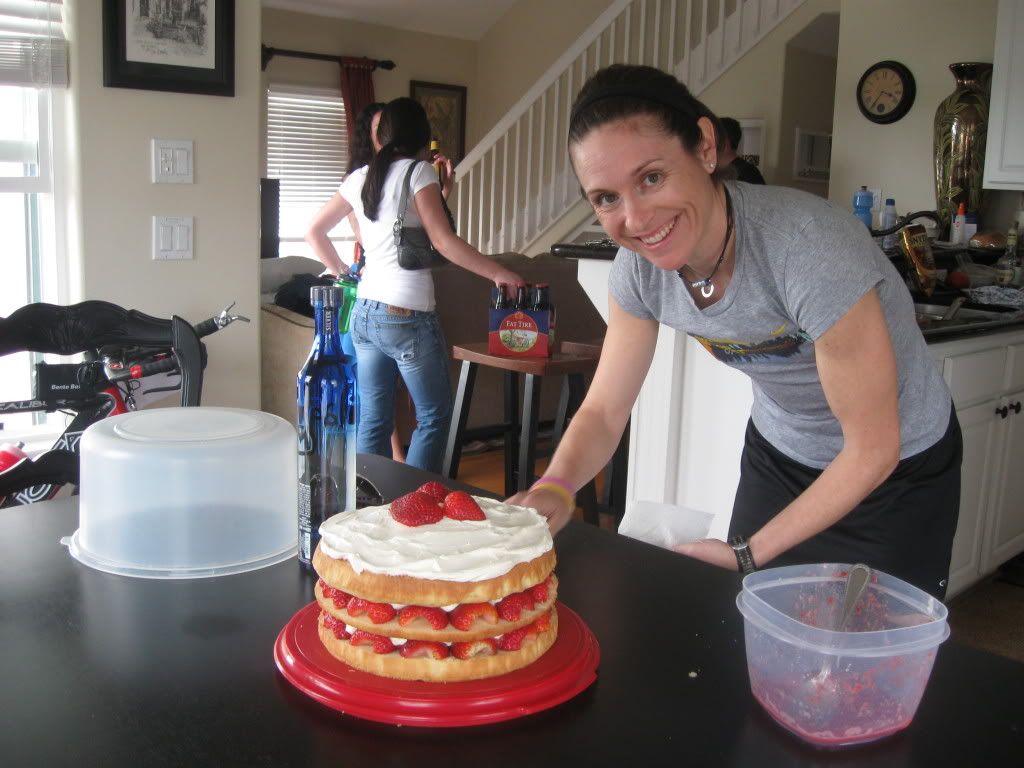 My tri gal-pal Lauren showed up and the famous Greyhound arrived as well.  The dinner of Apple Cider Ham, Buttermilk Mashed Potatoes, Lemon Green Beans, Watercress Salad and Rosemary Bread was a hit with the crowd of 12.  After clean-up, the people who were racing in the morning started getting their gear in order and the non-racers went up the road to the local honky tonk for kareoke night.  I was in bed by 10:30 and out like a light.
4:45 am came early and Greyhound was already loaded up and gone by the time I was dressed and down stairs for some breakfast.  Ryan was up next and we loaded up the bikes and we were off to Moody Gardens by 5:30 a.m.  Once parked in a far lot that would allow me to get out without being in the way of the racers, I ran up to the transition area and went to go look for Coach Luke.  I got chatting with Luke and Jay and I talked with some of the gals from the Half IM team that I would be keeping tabs on while they were out on the bike course.  I looked down at my watch and realized that I had to high-tail it back to the car to get my bike and then head out on the bike course and get as far down the road before the fast boys from the Quarter Iron group came barreling by me.
As I got out on the road, I got the volunteers up out of their chairs and they started waving the traffic flags for me.  I was just testing to see if they were ready, lol.  I got to the Seawall and turned into the wind and the work began.  The temperature was 71 and it was foggy and humid. I was not racing, but I was working at race pace.  I was pedaling scared!  I wanted to get down to the turn around on the course before I got swalowed up and spit out by the Fast Boys.  I got about six miles down the road when a policeman on a motorcycle pulled up along side of me and asked me if I was in the race.  I hardly had enough breath to tell him that I was working  down to the half turn-around.  He asked me to stay to the right as the first guys were coming through.  I hugged the white line and kept up the pace while I felt the burn in my legs as I pedaled into the wind.  Within minutes I was hearing the roar of the disk wheel of the first cyclist on the course.  This Fast Boy from the Navy passed me up like I was standing still!  I looked down at my SRM and saw that my speed was 19.2 but this guy was handing my ass to me and dropping me like a bad habit.  About 90 seconds later I was overtaken by the second Fast Navy Boy.  We rolled through Pirate's Beach and I got a good look at the rear end at the third and fourth racers.  At least the view was good.  A depressing view, but a good view none the less.  I'm still working hard mind you.  Snot is dripping off my nose, spit is rolling out the side of my mouth, sweat is dripping out of my armpits onto my knees.  I roll by the first aid station around mile 10 and the volunteers were great giving my lots of cowbell even though I was not racing.  I had another two guys pass me on the way to Jamaica Beach.  Most of the guys seem to wear skin suits or tri shorts but one of the guys was sporting the micro Speedo.  Not many guys are "Speedo Worthy" but this guy was not a bad specimen.  Not to let my focus wander, but I knew I had to be looking for the turn-around.  I had one more Fast Boy pass me up and on the other side of the road I saw the truck and motorcycle cops escorting the lead Fast Navy Dude.  The turn-around could not be far now.  No easing up!  No one else was allowed to pass me up!  Little did I know at the time but Ryan was only a few riders back from passing me.   Relax the shoulders, hock some snot over the right shoulder, drive the legs and push the pedals.  I saw more Fast Boys on the way back in and then out of the fog I saw the turn-around.  The volunteers were flagging everyone to slow down for the U-Turn and I motioned that I was going straight and I heard, "They're doing the half" as I flew by.  I could not let up yet,  I had to get far enough down the road to let the fog envelop me and I could find a safe place to pull over.  Oh, and Fast First Place Guy...his bike split was over 26 mph.  No wonder I felt like I was standing still when he passed me.
The fog was lifting but the clouds still kept the sun under cover.  Here are a few pictures I took before heading down the road.
The long road to Sabine Bridge
That's the Gulf of Mexico across the road behind me.
 I took a little edge off of the race pace I had been working at and held a good pace down to the Sabine Bridge where I ran into some guys  on the bike course staff who were brooming the shoulder and road.  I let them know about a crack in the pavement that could suck a wheel in and may need some spray chalk.  They were great and offered me some sunblock and told me that they appreciated me telling them about the crack.  I headed over the bridge and stunned the kids who were working the aid station at the turn-around.  They had been unloading water and Gatorade bottles and they started scurrying to crack open boxes to hand me something.  I slowed to a stop and told them that I was not racing but that they looked like they were ready.  They offered me some bug spray, water, and a cow bell to cheer with.  Coach Luke called to tell me that everyone was out on the bike.  It would be another hour before we saw the Fast Guys so I had time to grab a seat on the road and relax.  I chatted with the adult sponsor for the kids working the aid station.  They are raising money to ride the MS-150 ride next weekend from Houston to Austin.  I watch the  bike course staff broom the roads and even get down on their hands and knees to pick up stray pieces of gravel.  The sun was out in full force now.  Around 10 a.m. we got a radio call that the lead cyclist was headed to the Sabine Bridge.  It was time to grab a cowbell and for everyone to take their places.
Todd Gerlock came screaming down the bridge and the cowbells were ringing like crazy.  The second place male was just coming down the bridge as Todd was heading back out.  It was pretty exciting to see all of these triathletes coming through the aid station and the turn-around.  It was not long before I saw the first Team in Training participant.  This guy looked fast.  I was cheering and giving a shoutout to a few people I knew that were racing.  The more I cheered for Team in Training participants, the more the kids running the aid station cheered for them.  TNT got a lot of love at the turn-around.  I saw Jonathan and Skyler come through the turn-around and I cheered loudly for them.  I stayed on top of drinking water and a few shot blocks while cheering.  After I saw Alice, Norma, Nikki, and Heather go through the turn-around I gave Coach Luke a call to give him an update and it was time for me to start heading back to Moody Gardens.   It was now noon and over 80 degrees and the wind had shifted out of the north and really picked up to a gale force.  I was very proud of these guys and gals.  I had coached them last year for their first Olympic distance race and now they were doing their first half IM distance race.
I did feel bad passing up racers who were struggling with the wind on the way back in, but my plan was to see if I could catch up to the gals and see how they were doing.  I passed Heather and she said her stomach was bad but she was going to finish.  I caught up to Nikki and she said that she had a flat.  We pulled over about 3 or 4 miles from Jamaica Beach I told her I could not change the tire but I could talk her through it.  She was pretty flustered and not moving efficiently.  She got the wheel off and her tools out while I looked for the glass or burr in the tire.  I found it and handed a tire boot to Nikki and talked her through getting the tire back on.  The yellow Mavic support car rolled up and asked if we were ok.  Several people offered help. I told the Mavic car that we were good and Nikki got the wheel back on.  I told her to pedal on and that I would give Coach Luke a call with an update.  After talking to Luke and getting back on the road, I did not go further than a mile when I rolled up on Nikki again.   She was crying and said the tire was flat again.  I gave her more than a pep talk and encouraged her to keep going to where we could see the flashing police light way up ahead.  Nikki starts on about being sorry, sorry that she is holding me back, and that she is the last one and they will close down the course before she can finish.  Ok, now it was time for tough love.  I told her that the tears had to stop.  She was not holding me back and I was not racing.  I was out on the course in case a situation like this happened.  They would not close down the course with people still out on it.  If it meant that I had to walk the whole thing with her, we were going to go the distance.  She had done the fundraising and there were so many people depending on her to finish.  NO QUITTING!!!  It was time to get comfortable with being uncomfortable!
We made it to Jamaica Beach and I sent Nikki on as I had the police man send out a call for the Mavic support car.  We waited around 6 or 7 minutes and had a handful of people pass when the Mavic car rolled up.  HA!, Nikki was not the last person out there.  I sent the Mavic car to find Nikki and it was time to give Coach Luke another call.  I was getting a little worried because I had not seen Heather in a while.  I got back on the road and I caught back up to Nikki after Pirate's Beach.  She had a new wheel and had calmed down and was on her way.  The wind was BRUTAL.  There were many time that I could have been blown off of the road.  I was glad that the right lane was coned off when I got to a stretch of road that did not have the wide shoulder.  When I finally turned off of the Seawall and headed north back to Moody Gardens I went from 17 to 18 mph down to 11 mph, UGH!  I rolled my bike up to the car and gave Ryan a call to let him know I was back and loading the bike so we could go back to the beach house and clean up.  I also called Luke and told him that I was back in and that Nikki was behind me and not too far away and Heather was still out on the course.
When Ryan got to the car, he gave me the AWESOME news that he won his AG for the Quarter Iron race and won the Texas Two Step Challenge for the fastest overall time for both the sprint and quarter races.  I was so proud of him!  This was his only race of the season.
 Earlier today he had surgery to repair his torn ACL.  His season is over and he is off of running for a year.  We jumped in the cars and headed to the beach house to get cleaned up.  I called the rental office and told them we were done with the race and after cleaning up we would drop off the keys and finish checkout.  On our way out we saw Heather getting a police escort about three miles from Moody Gardens.  I gave Coach Luke a quick call for an update.
After cleaning up and cleaning out the fridge, Ryan tackled the last bit of Strawberry Cream Cake before it went in the trash.  As I was holding the trash bag open and he is holding the cake plate, he starts picking out strawberries and breaking off pieces of cake.  I start doing the same and soon we have whipped cream all over our chin and nose.  We could not stop laughing.  We felt like little kids doing exactly what our parents would have been mortified at if they caught us doing it.  The cars were loaded, I did a last sweep through the house, and I told Ryan I would see him back at Moody Gardens after I dropped off the keys.
Once back at Moody Gardens, I found Nikki walking on the race course that ran along the main drive of the resort.  I rolled down my window and cheered her on. I found Ryan, Lauren, Lori, Ulysis, and Jay at the finish line and we started keeping an eye out for Norma. Norma is my poster girl for the "YOU CAN DO IT" campaign. Two years ago when Norma joined Team in Training she did not know how to swim at all and she was afraid of the water. I remember having to rescue her off of a floating dock that she had managed to get out to when we did an open water swim and she was too scared to make it back to the dock near the shore. The shore line was only 20 yards but it was too steep and filled with reeds to be able to get out so I had to drag Norma as she hung onto my legs a good 150 to 200 yards to the other dock. Now here she was finishing her first Half Ironman distance triathlon! I was so proud of her. When she came into view, Lauren, Ryan, Luke, and I ran her into the finisher's shute. There were tears all around as we took photos after her finish.
Lauren, Ryan, Norma, Luke, me, and Ja
y
Nikki came around for her last lap and she told me that she had crashed on her bike heading into T2. Dang it had been a rough day for her, but she had one more 3.3 mile loop to go. She was so appreciative of me helping her out with her flat tires and she kept asking me how I could love this race distance. Heather came by as well. She was walking the entire run due to the fact that she had been throwing up several times on the bike and she just had no ability to run. She was told by the lady on the run course who was handing out wristbands for each lap that the timing would finish in 25 minutes. Heather said it was ok and that she was going to finish no matter what. I coached these two girls last year and if someone would have told me that they would be the last people across the line I would not have believed them. They stayed tough! Flats, crashes, vomiting, and the clock running out was not going to keep them from finishing this race. Again, I was able to help Coach Luke run Nikki and Heather in.
What a day! I am so proud of all of these men and women. When the going got tough, they kept going. It may have crossed their mind briefly to throw in the towel, but they did not quit. They lived through the crucible and came out changed on the other end of the course. Sure, they said they would NEVER do another one, but I am going to give it a few months and their outlook may change. That is what I love about this sport!
Thanks for reading. Later Gators!
Liz